Tutoring for
Today's Student
Give us a call 1-800-211-1986
Stellar, Innovative and Engaging Academic Support On Demand 24/7
Air Tutors is founded and managed by graduates of the top universities all with a passion for teaching, mentoring and inspiring students to succeed.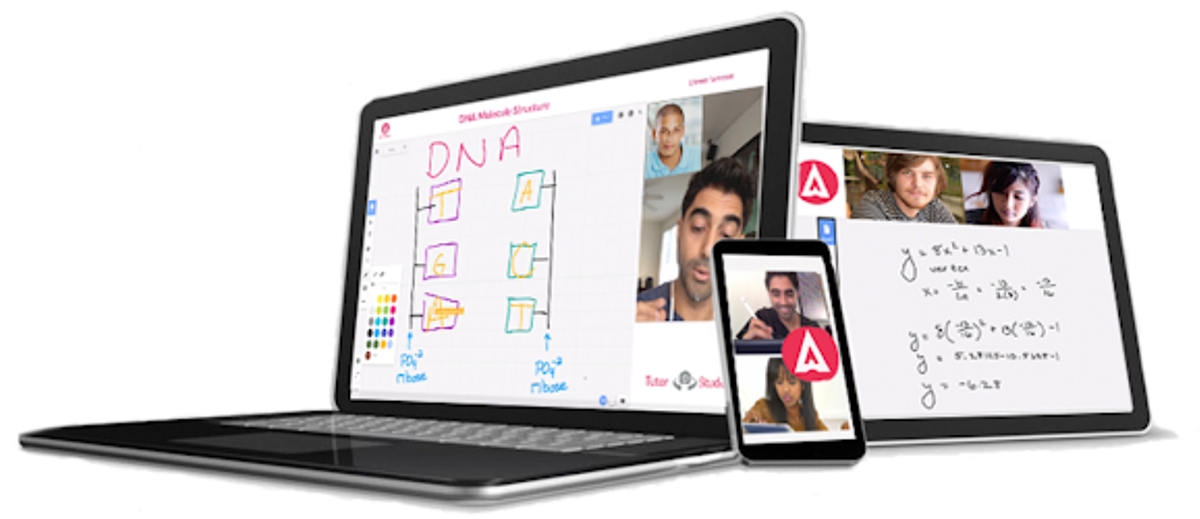 Your Partner in Academic Achievement
The Air Tutors Difference
The Best Tutors in the Business – we carefully select our highly educated, engaging mentors, based on their knowledge, their passion for working with students, and their ability to translate that through the web. All of our tutors come from distinguished academic backgrounds and many have Masters or Doctorate degrees, making us excellent partners in students academic journeys.
Data proven techniques and advanced technology driving student success
Trusted by Students Everywhere
This is definitely a service that's superior to anything I've ever used before. I was "matched" with a tutor that shared similar interests. Since when are tutoring companies matching students with tutors based on interests? Awesome! From the first 5 minutes of our session, I knew that this was unlike anything I had used before. I went on to become more comfortable with the test and it improved my confidence like nothing I thought possible! My score was in the 95 percentile. Thanks Air Tutors!

Jeffrey

Santa Barbara, CA
A girl friend and I took test prep together to share the costs, Air Tutors was way better than the other company we were with because our tutor took the time to get to know each of our abilities and covered all the material we both needed to learn. We also were able to study all the assignments together for different locations. It was amazingly easy. we both did really well on our SAT. Thanks Air Tutors!

Olivia

Los Angeles, CA
I wish I had known about Air Tutors earlier. There are so many times I wish I could have someone help me when it's convenient for me. This is exactly what I got with Air Tutors. I had a handful of tutors willing to help me within minutes of signing up! This is definitely how tutoring services should be, for students who need help immediately.

Andrea

Atlanta, GA
So, chemistry is definitely just not my thing. I constantly need help and I'm never sure which day of the week or when I'm going to need it. Air Tutors is the perfect solution. They have great tutors and I'm able to get help with the concepts that troubled me without having to worry about scheduling.

Michelle

New York, NY
I really like that Air Tutors allows me to schedule sessions when I need them. I don't normally need help each week, so scheduling sessions doesn't quite fit my need. It's so great to be able to get on my computer , select my favorites and have help me within minutes!

Charles

Clifton, NY
I am a home schooled student and Air Tutors is my savior. We travel all over the world and my tutors, all of whom are are amazing, are available to me from anywhere even for 15 minute quick questions.

Sayo

Montreal, Canada
I play club soccer and spend a good part of my weekend at tournaments. I often study and do homework during breaks. Air Tutors is great because I can reach out to them anytime and get help, all I need is my phone.

Tyler

Salt Lake City, UT
Sunday 11pm the day before my final I was stuck on a section of Organic Chemistry. I searched the internet, called and texted friends and family. A friend recommended Hasan at Air Tutors. It was so easy to connect and in 1 hour all my problems were solved and I had the knowledge to ACE the final. Thank You Air Tutors.

Shannon

Boston, MA
I really needed help for my daughter. She was going to be taking the ISEE, but hadn't learned a lot of what's covered in school. Air Tutors came in and not only taught her the material in a fun and engaging way, but also helped her with her test taking anxiety! My daughter now looks forward to her sessions with her tutor…I'm blown away!

Parent
My parents really wanted me to improve my scores on the ACT. They had heard about Air Tutors from a friend and asked me to give it a try, because it was different and I normally don't do well working with tutors. My tutor was not only fun, and funny, but I enjoyed working with him on problems. He taught me new ways to look at problems, and how to defeat the test with various strategies too!

Huan

Studio City, CA